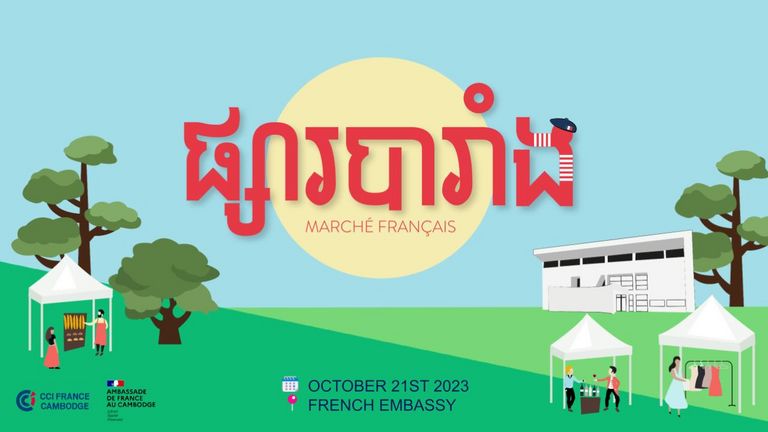 The French Cambodian Chamber of Commerce and Industry (CCIFC) is pleased to invite you to its flagship event: the French Market!
Following the great success of the previous edition in 2022, which attracted over 5,500 visitors throughout the day, this year promises to be even more magnificent with the participation of over 70 exhibitors showcasing a variety of products and services. Visitors will have the opportunity to discover a wide range of French specialties, participate in culinary tastings, enjoy sports activities organized by Decathlon Cambodia, try out Voltra scooters, and take part in other outdoor activities suitable for all ages!
One of the highlights of this event will be the exceptional opening of the French Embassy's park to the public. As the largest green space in the city, this picturesque environment offers a unique opportunity to stroll around and discover the biodiversity of the beautiful gardens.
Food enthusiasts will also be delighted to find an air-conditioned area with stands offering delicious French specialties and refreshments.
The French Market is a highly anticipated family event among Cambodians, and the CCIFC expects to welcome a large number of visitors again this year. The event will be open to the public from 10 am to 6 pm, providing a full day of discovery and entertainment for everyone.
The CCIFC would like to express its deep gratitude to its sponsors, Bred Bank, Zuellig Pharma, SAFETYNET Insurance Services, Atalian, as well as its partners, Maison Eric Kayser and Advance European Medicare Center, without whom this event would not have been possible.